The New World Veterinary Repertory has already become an indispensable tool to many veterinarians and is now available in RadarOpus!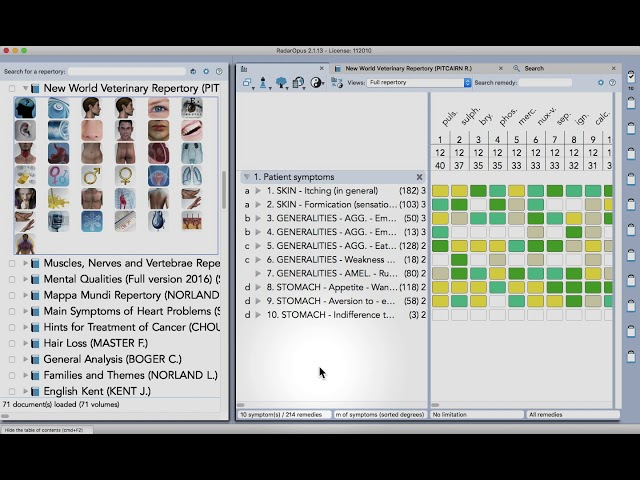 This repertory was constructed on the backbone of Boenninghausen's Characteristics Materia Medica & Repertory as created by C.M. Boger, with rubrics added from Kent, Jahr, and Boger's Synoptic Key. It emphasizes concomitants, aggravations, and ameliorations of symptoms, which we have found to be the most reliable guide to the curative remedy in veterinary patients.
During this work we discovered many inconsistencies in the order of rubrics in the original sources. These were corrected and standardized for ease of navigation through the repertory. The language was changed from the human body part to the analogous non-human anatomical location, such as "ankle" to "hock," "wrist" to "carpus," and "arm" to "foreleg." Menses was described as Heat (reproductive cycle). Definitions were also added to clarify older terminology or technical terms.
Cross references are the most exciting feature of the New World Veterinary Repertory
During the repertory's construction, we noted many rubrics with similar meanings, but often different remedy listings. Rather than second-guess the author and merge the rubrics, we added notations for each similar rubric, cross- referencing the original rubric with its counterpart. Now, rather than paging through the repertory finding similar rubrics, simply follow the cross-references and you can decide which rubric is the exact best fit for your patient.
Your repertorization will be much more efficient, and you will quickly find applicable rubrics that you may have missed in the past. The result of this painstaking work over a period of three years is a precise and exacting tool for the busy veterinary practitioner. This repertory would also be applicable to human non-verbal patients, such as infants, or adults unable to communicate due to a condition such as schizophrenia or coma. It has become an indispensable tool to many veterinarians, and it is often a favourite repertory to bring on house and barn calls.
Learn more about the New World Veterinary Repertory